What can be more decadent for breakfast (especially on my bday) than waffles with chocolate and strawberries?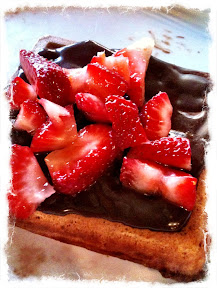 Happy birthday breakfast to me!!!
Most recipes I find from others, once in a great while I make something up, I made breakfast at my moms house this morning & she didn't have nutella!! How I am supposed to eat breakfast without that vital ingredient? So I made up this, I'm sure there's tons of recipes out there in the works very similar...
Chocolate sauce
1 cup milk chocolate chips
2 T butter
1/4 cup whipping cream
Melt all ingredients on low, stirring constantly, until combined. Remove from heat, chocolate sauce thickens as it melts.
Now for the waffles!!!
This recipe I found from Alton Brown, that guy is AWESOME!
In one bowl combine
1 cup whole wheat flour
3/4 cup whit flour
1/4 cup cornstarch
1 t baking powder
1 t salt
1/2 t baking soda
In another bowl stir together
2 cups buttermilk*
3 eggs, beaten
1/2 cube melted butter
1 t vanilla
take the dry ingredients and make a well in the middle of the bowl, whisk the wet into the dry
- don't over mix!-
Let stand 5 minutes
bake according to waffle iron, this is supposed to be a Belgian Waffle recipe but I don't have a Belgian iron and it works fabulously in a regular one :)
*(I never seem to plan ahead my waffles, so I never have buttermilk, just substitute 1 t lemon juice and 2 cups milk)
Briti