Ingredients
2lbs spicy Italian ground sausage or hamburger meat
Seasoning (only if you are using hamburger meat- if you use sausage don't use the seasonings)
Sprinkle liberally with garlic salt & Natures seasoning and 1/2 tsp of crushed red pepper
Sauté 1 chopped onion and 3 chopped carrots.
In blender purée,
2 quarts of stewed tomatoes,
1 can of boulenese sauce
Sautéed onions & carrots
Handful of spinach
After meat is browned add the red purée to the meat and simmer for an hour.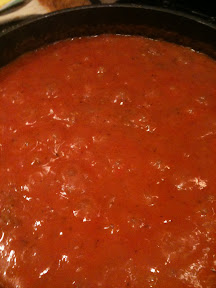 Meanwhile, make Bauchemal Sauce- brown 4 tablespoons of butter in a saucepan, once brown add 4 tablespoons of whole wheat flour. Then pour in 4 cups of milk (I use whole milk), simmer for an hour.
Cook one box of lasagna noodles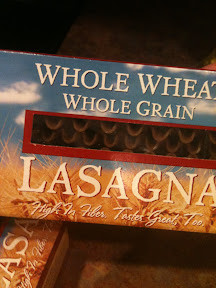 Once it's all cooked, (not too cooked! Cook just until the noodles are a bit chewy)
Lay the noodles to dry on a tea towel.
Layer in buttered 9x12 pan as followed.
Meat Sauce on the bottom of pan then layer:
Noodles
Meat Sauce
Bauchemal Sauce
Mozzarella Cheese
Parmesan Cheese
Repeat until full on the very top just spread the Bauchemal sauce and the cheeses not the meat.
(this photo is of the second layer, at this point before I add the cheeses I take a pastry brush and smooth the white sauce out so that it's evenly distributed.
Once all in the dish bake at 425 for 40 min.
Enjoy!
Brit