Enchilada sauce
In blender combine a quart of stewed tomatoes
A pint of canned salsa
A small can of green chilies
After puréed, boil on stovetop until it is 3/4 it's amount.
Cook about 12-16 Costco tortillas
Brown 1.5 lbs of hamburger meat, season (while browning) with 2 tsp of Natures Seasoning, 1 tablespoon of garlic salt, I tablespoon of cumin, 1 tablespoon of chili seasoning and 1/2 tsp of crushed red pepper
Chop a can of black olives
Cook 1 can of black beans
Shred 1/2 lb of cheddar cheese (or use a pre-shredded mexican blend)
Sauté 1 chopped onion.
In 2 8x8 pans (or 1 9x13) spread a bit of the enchilada sauce
Then take your tortillas and spread them out on the counter, in each tortilla layer: enchilada sauce, hamburger meat, cooked black beans, onions, chopped olives, and finely shredded cheddar cheese.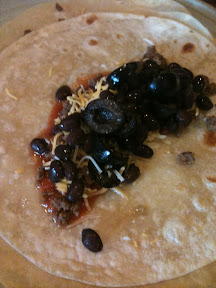 Roll them up and place in the pans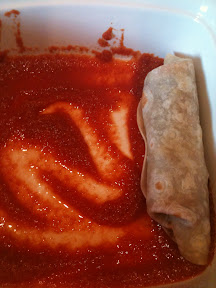 I can fit six in a 8x8 pan. Which gives mom & dad 2 & my girlies 1! Perfect. The second pan I put in the freezer!!!!
Once the enchiladas are all rolled up, spread a little sauce cheese & olives on top.
(the ones without olives are for Kyle who isn't an olive lover yet)
Bake at 375 for 35-45 min. I like mine a bit crunchy on top. As long as the cheese is melted on top, your dinner is ready!
Yum!
Brit